2/24/2015
NCA Matagalpa, NCA International, NCA Nejapa
---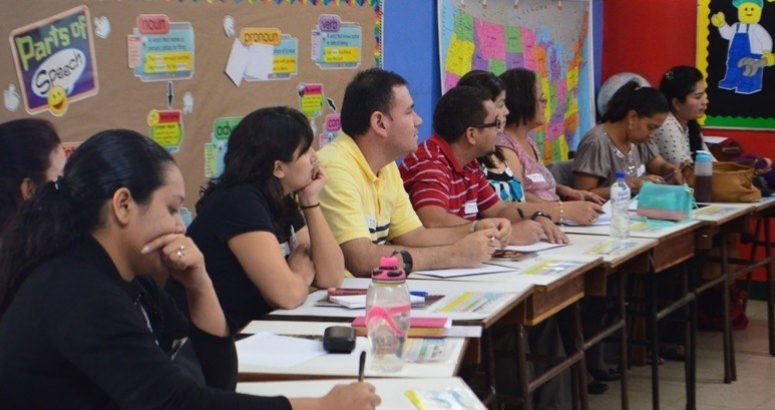 By Peter Edgar (Junior, Class of 2016)
On Wednesday, January 28, a group of over 140 administrators, teachers, and staff from the Association of Nicaragua Christian Academies (ANCA) joined for a full day of personal and scholastic assessment. Mr. Eric Loftsgard inaugurated the conference by emphasizing the importance of interscholastic unity after introducing the directors of NCA International (Mr. Liam Starkenburg), Nejapa (Sr. Antonio Ruiz), and Matagalpa (Ms. Carey Franklin), as well as the director of the association, Mr. Nathan Boersema.
Teachers heard from a number of speakers, from educators in other Nicaraguan Christian schools to the director of the Association of Christian Schools International (ACSI) Latin America, Estuardo Salazar. In one plenary session, the directors introduced the acronym of GRACIA, each letter standing for a virtue: Gratitude (demonstrated by Ms. Franklin with "thankful glasses"), Respect, Authentic love, Community, Integrity, and Always learning. Mr. Starkenburg said, "Our students should be motivated by love and grace, not by rewards and consequences."
During the breakout sessions, diverse topics were introduced and explored, from the effective use of Google Classroom to classroom management to creativity in the classroom, among others. Meanwhile, I interviewed two people who are active in NCA's development: Mr. Loftsgard and Mr. Boersma. As a 15-year member of the board, Mr. Loftsgard's job, simply put, is to "make sure everything keeps moving." When asked why the conference is so important to the development of ANCA, he remarked, "It's just part of the investment; it's part of investing in people. The greatest resource of this school are its people… I love the word 'empowering.' " However, as Mr. Boersma said, "The ANCA has established these three campuses, and governs them, but equipping is the challenge, because we're trying to be effective."
Overall, the ANCA was a conference of learning, self-reflection, but it was also fun, with a photo booth for the teachers to bond through, with a few students manning it. What might be the biggest take-away from this event, though? Well, in the words of Mr. Boersma, "[The teachers] are each other's greatest asset… They need each other."
Published on January 30, 2015. Written by Peter Edgar. Photos by Peter Edgar, Sabrina López and Jonathan Chen.