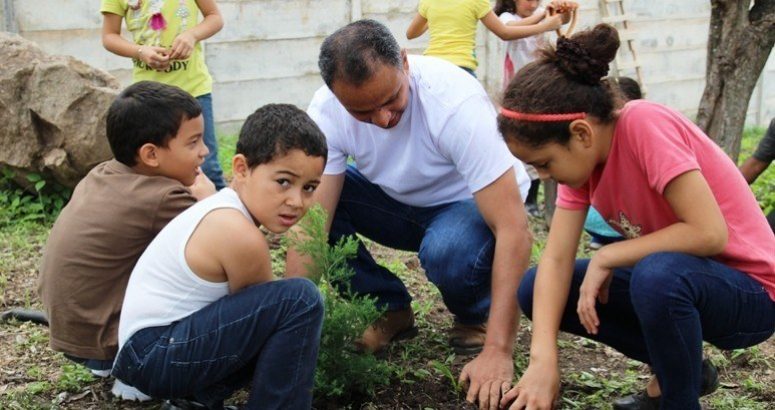 By Sara Espinoza (Teacher and Instructional Coach)
At the beginning of NCA Matagalpa's second year (2014), we added something counter-cultural to the enrollment contract for parents: a commitment to complete at least five hours of service at NCA during the school year. In Nicaragua (as in many Latin American countries), it is common for parents who pay for a private school education to defer the responsibility of their child's learning almost entirely to the school. The school often maintains a posture of authority that can intimidate parents and discourage their involvement. The mission statement for NCA says that we "partner with Christian parents to form active disciples of Jesus Christ", and our administrative team realized that creating a "partnering culture" would require being very intentional.
We started the year by having our parents respond to a list of the ways they might be interested in helping the school. We were encouraged by how many suggestions they added to the list, and then we were even more encouraged by the positive responses when we asked them to come serve in specific roles. On occasion, we had to correct the perception that the service hours could be fulfilled by sending an employee or a "cuota" (a monetary gift commonly requested by schools), but throughout the year, we were humbled by the overwhelmingly positive attitudes and initiative of our parents. We were asking for their help, but they were the ones constantly thanking us!... "Thank you for inviting us to be involved!"
Among other things, the parents helped build a temporary greenhouse, they landscaped, they sewed curtains, they designed a future dining hall, worked at the Family Fair, they refereed games, coordinated and decorated for presentations, helped build tables and benches, substitute taught, led Bible studies, organized the library, tutored, and raked leaves. We started with a goal of 530 accumulated service hours for the year and we ended with a total of 591. In the first 2 months of 2015, we have already surpassed the 128 service hours and new parents to the school have already started to get involved.
These activities and numbers, however, tell only a small part of the story. Perhaps an even greater purpose emerged as the year unfolded...family was formed. When our parents, staff, and students are asked what they love about their school, "the feeling of family" is a constant response. Partnering requires being intentional, but at NCA, we count it a privilege and intend to keep making it a priority.
Published on March 20, 2015. Written by Sara Espinoza. Photos by David Stienstra.