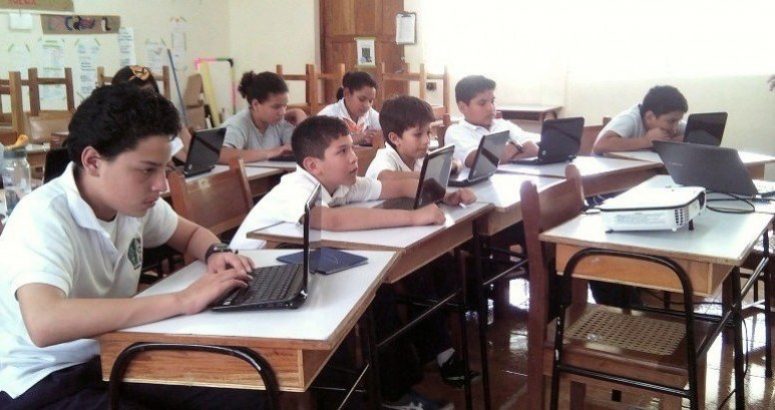 By Melba Gámez, Sixth Grade Teacher, NCA Matagalpa
Without a doubt, technology has become a powerful tool to teach our students in the classroom. The results have been motivating us to continue researching and learning to how integrate technology in our classes in meaningful ways. I want to share a bit of the story and impact of a particular project we've been implementing.
In the last three months sixth graders from NCA Matagalpa have had the opportunity to use the Internet as a tool to reach out to children in a multi grade-level school in the rural community of Buenos Aires, Jinotega. This school is part of the program called Semillas Digitales (or Digital Seeds in English) implemented by the Seeds for Progress Foundation The students first engaged with each other through handwritten letters. Many rural school children have never received a letter where someone was interested in learning about them and interested in their friendship. Children on both sides discovered through this exchange that they weren't so different after all; they like the same classes, play the same sports, they both have academic difficulties, their families are much alike and they also learned that they are both using technology at school.
Since then, students from both schools have been sharing presentations, videos, photos, and asking questions of their urban and rural environments using Google Drive. It is exciting for them to wait each week for communication from their virtual friends. Without a doubt, they are learning in a collaborative environment and overcoming the geographical and social barriers that separate them. So far they have not had the opportunity to meet face to face, but this will happen next week during a surprise video call. For me it will be highly interesting to watch their reactions and their interactions.
If this story interests you, stay tuned to the news on NCA Matagalpa. At the end of the year, I plan to share more about the results we see and maybe even invite you to participate in projects like this one where our students get to have authentic experiences that they will remember for life.
Published on October 8, 2015. Written by Melba Gámez. Translated by Dave Stienstra. Photos by Semillas de Progreso and Melba Gámez.